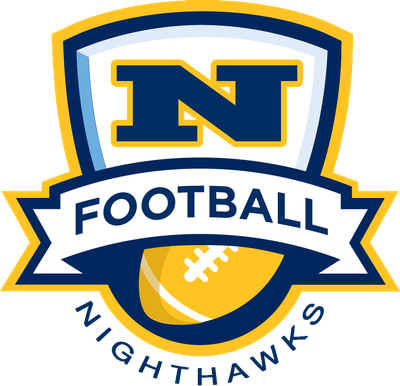 Requirements to Play Football
Complete online registration form
Have an updated physical on file
Have all athletic paperwork completed
Be academically eligible
Follow the team policies
Participate in the team fundraisers
Participate in team activities
Communication with Head Coach
The Head Coach will communicate with players constantly. All players will connect 1-on-1 with with the coaching staff in January, May, and August. These meetings will be to discuss short and long term goals as well as address any questions/concerns.
**Coach Startzer and all coaches are available to sit down and talk to all players at anytime the player wants
Injury Policy
Know the difference between PAIN and INJURY.
Relay ALL information on any ailments to the coach
Assume you will always dress out for practice. Limited players wear a "RED" jersey.
If you have a serious injury and are out for a substantial amount of time, you still must attend practice each day.
Equipment & Lockers
You will be issued a locker & equipment each year
You should keep your locker locked at all times.
If your locker does not work or you have any other locker problem, let the coaching staff know.
It is the players' responsibility to keep the locker room clean. If locker room is not clean, the entire team is accountable.
It is your responsibility to keep up with your equipment
If you lose anything, you will be placed on the Distraction List.
Do NOT come to practice without being fully equipped or you will be placed on the Distraction List.
Letter Policy
All Varsity players that dress on Friday night that end the season in good standing will earn a Varsity Letter. We do not base letters on stats or playing time. Everyone is important to our team and if you have abided by the team policies and have remained on the team throughout the season, you earn a letter.
Players May Expect Coaches to:
Be loyal to them in public and private
Be honest with them
Help them achieve their goals
Help them become better players
Help them now and after graduation
Treat them like adults
Make decisions based on what is best for the team
Provide discipline for them and help them grow
Make our school the best place in the state to go to school and play football
Players will be expected to:
Do Right – you know between right & wrong
Be on Time – promptness shows commitment
Be Dependable – Dependability over Ability
Finish on Empty – all we want is your best effort
Outwork anyone who wants the same thing you want
Treat everyone the way you would like to be treated
Report all issues (injuries, problems, etc.)
Take pride in our football program
Player Discipline
Discipline should be fair and consistent and designed to change and improve behavior. We may discipline using the following:
Informal Conference
Formal Conference
Distraction List
Dismissed From Team
Missing Practice
If you miss practice, you cannot make up that opportunity to get better. If you must miss practice, you need to let us know.
If you miss practice excused – you get 1 day on the distraction list (simply to make up time missed and show your teammates you missed them)
If you miss practice unexcused – you get 2 days on the distraction list and if it happens repeatedly you will be removed from the program.
Distraction List
Any player that violates any team policy will be placed on the "Distraction List". The most successful teams eliminate distractions. Any player causing a distraction will be discipline. This group stays after practice to do extra cleaning/conditioning.